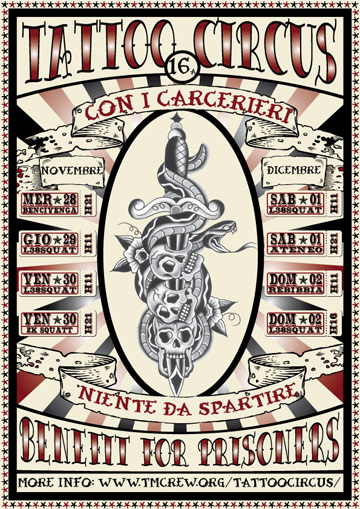 Tattoo Circus, 16th edition
event benefit for prisoners
From November 28th to December 2nd in Rome will take place TATTOO CIRCUS, an event with which, through long days and nights of piercing and tattoos, we want to continue a path of support for friends and comrades in prison. The reasons that led us right away in wanting to repeat this year these days, are many. Certainly we feel the need to talk about prison and repression, motivated by a profound desire to destroy each cage.
The prison is one of the extreme synthesis of state power, of the violence of this society; And is, moreover, an institution made necessary by the company itself and the power to maintain itself and continue to divide us into good and bad, legal and illegal socially accepted and excluded.
This project was not to leave detainees alone in living the violence that is the prison, breaks the walls of isolation and indifference and, not least, also help them to survive economically in there.
We decided this year to involve in political prisoners or not. This is because we believe there can be no freedom except the freedom of all and all, because we do not care to know the charges or the reasons for which a person is in prison to wanting to see him free, because we do not believe in the justice of judges and magistrates! Create divisions among prisoners, convenient only to those who keep them locked up. For us, each one, each of them is in there because there is a law that has decided for his life, because he has broken with the illusion of a society that wants slaves (of a job, a role, its dictates of the time ...), because he rebelled. For this we will go in front of the women's prison in Rebibbia on Sunday, December 2nd FROM 11.00 onwards, with regards to support, voices, music and screams of release all the prisoners.
We dedicate this event to who rebels.
To who with never ever worked with the captors of every kind, who has tried a live harder for them. To who, outside the bars, has continued to fight against all authority. To who has been found outside the law and to those who chose to be.
WITH THE JAILERS... NOTHING TO SHARE
DESTROY ALL CAGE!
View the complete program of the 5 days